While I get to preach most Sundays, and get to BE every other day of the week (!), it's rare to sit alongside my wife and contemplate the experiences and learnings that have shaped our vision and values as leaders. We say around here "WHOs before DOs" and "WHOs lead to DOs." This is because a whole Gospel Identity leads to being motivated by Jesus to think and do as He wants us to, since we are becoming like Him.
This Summer our friend Lee Edward came to see us, set a microphone on the table, and interviewed Kari and me at our home. His stellar podcast is called "Leadership Portraits" [see SoundCloud or iTunes] and is worth a listen of each episode.
"You may not think of yourself as a leader, but someone looks to you for leadership."

Thank you Lee for your care for us as people, for asking stellar questions, and listening with rapt attention. Your aptitude for reducing down our shared words to the most helpful parts is a gift you've cultivated well.
Listen or download:
"People like to follow a leader who doesn't have it all together."
[ 43:22 ]
Play Now
|
Play in Popup
|
Download
(Unedited, excepted an quick intro added to audio above.) Or take a listen of episode seven on Lee's SoundCloud page:
Lee mentioned Kari's e-books, found here. Next year her book Sacred Mundane will be published with Kregel, and her blog "Sacred Mundane" is karipatterson.com/sacredmundane. Some notes on my training and journey as a grace-driven effort endurance athlete (runner and triathlete) with Team World Vision can be found at renewjeff.com. (This episode goes live on the Renew Church podcast feed while we're on a "racecation," competing in the primary race fundraiser on 10/16, Ironman Arizona 70.3.)
Some quotes and lessons Lee mined from the episode/interview:
"Public dishonor is chipping away at people's ability to follow that person." (Kari)

"People like to follow a leader who doesn't have it all together." (Jeff)

"Our title should follow the character we have." (Jeff)

"What men do in private effects every relationship they have." (Kari)

"If I think of others as lesser than me, I will not elevate them." (Jeff)

"You may not think of yourself as a leader, but someone looks to you for leadership." (Jeff)
Building and protecting trust:
Never embarrass or make another person uncomfortable publicly.
Create safety to fail in private by never misrepresenting your spouse/team in public.
Ask for permission before sharing private stories in a public setting, and only if they will be helpful for others to know.
Make role/job decisions based on gifting rather than tradition.
Look for and act on opportunities to honor each other in public.
Don't advertise a private disagreement into a public setting.
The book I mentioned (at about 9min) is The Making of a Leader by Robert J. Clinton; especially helpful was chapter two on "The Big Picture" — for discovering there was and is a sovereign foundation to the process of leadership development. The Father uses everything to mold our character as servant-leaders who follow Christ and lead others well.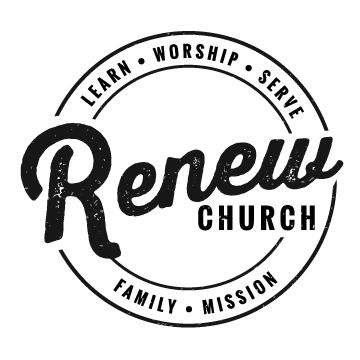 I want to thank the Renew Church family for being willing to follow leaders who don't have it all together. We walk with you and are humbled by your care for and belief in us as part of your church family. You have given us space to fail as leaders and grow with you as disciples of Jesus. Truly, God renews us together.
Weekly Rhythms » Kari and I begin Mondays with a "space and a place" for one another, an early morning "sync" time as husband and wife, best friends, co-parents, and a son and daughter of God. Today's sync time before 8:00 AM was uneventful but as necessary as always to share some thoughts about the weekend, forecast the week ahead, and discuss a new season as homeschooling starts today for our kids. (Actually, it became quite eventful as we realized the importance of this first day of a new journey!) We've experimented on when to have these weekly "sync" times, and while Sunday evenings seemed optimal, those moments inevitably met us in our exhaustion. So we switched it to Monday mornings. I've stumbled into recognizing the need for this time. Of course my wife can speak freely into my life anytime, yet this intentional time and space is a safeguard from being too busy and lackadaisical to listen well. Greatness comes from sacred, mundane moments like this.
When do you sit down with the people you love and those you lead and give them a "space and a place" to speak freely?
---
Audio for this interview may be played above, and is included in the RENEW Church podcast: subscribe in iTunes here, or access the church podcast feed directly here.
This year we each of us are invited on an adventure to look up and love God first. What will be your plan to develop a new rhythm of seeking God each day? » Find some help here.